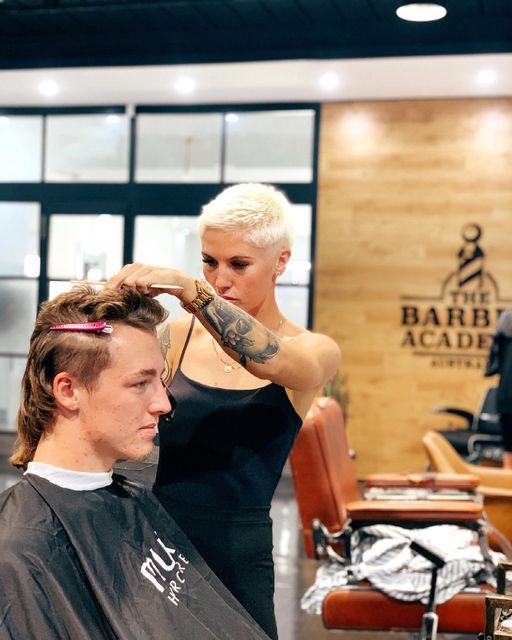 Accredited Short Course
SHB30516 –

Certificate III in Barbering package
This course is targeted at Hairdressers or Barbers who currently work in, or have worked in the industry, looking to become qualified in 6* Barber specific units.
*Must have completed SHBHCUT001 – Design haircut structures to study this course.
Course Duration:  5 weeks (2 evenings per week Monday & Wednesday)
Course Delivery: Blended delivery (online and face to face)
* option of RPL using these 6 units towards a Full Certificate III in Barbering Qualification.
You will receive:
Training by current industry experts
Barber textbook
1 Mannequin head
Option to purchase a Barbering kit ($1500)
Course fees are currently $2497.00 (payment plans available)

INCLUDED WITH EVERY COURSE
Boot Camp – Introduction workshops (Full-time only)
F.I.T – Future industry Training
Experienced Barber Buddies – making sure you are successful
Industry Links – future opportunities to get you started
Master Classes in The Barber Academy Training Salon
CAREER PATHWAYS
Freelance Barber
Session Stylist
Manufacturer Representative
Trainer
Influencer
EDUCATION PATHWAYS
Certificate IV in hairdressing/barbering
Diploma of Salon Management
Graduate Certificate in Hairdressing Creative Leadership
Ready to get started on your new Barbering career? Enrol today or Book a Chat with one of our Barbering Educational Advisors.
During the course you will complete the following units:
Creative cutting techniques
SHBHCUT009 – Cut hair using freehand clipper techniques
SHBHCUT010 – Cut haircuts using tracks and carving
Gentlemens Grooming
SHBHCUT011 – Design and maintain beards and moustaches
SHBHCUT012 – Shave heads and faces
SHBHCUT013 – Provide men's general grooming services
SHBHDES001 – Dry Hair to shape